After ten long months of mama torture (ha!), our breastfeeding boy appears to finally tolerate my eating dairy! Hooray!
Here's what I learned though: I feel soooo much better NOT eating dairy. Except for during several ass-kicking colds this fall, I didn't blow my nose once over the past ten months, and I was a blow-my-nose-every-half-hour kind of gal before.
Sigh.
So right now I am basically a meat-eating vegan. Oh, the irony.
It's been two years since I said goodbye to twenty five years of vegetarianism in an attempt to stay pregnant. I still eat meat every day. I continue to feel so much more energized now than when I was a vegetarian, despite getting so much less sleep. I've had to completely rewire my idea of what constitutes healthy eating and how I personally need to eat to feel my best. At this point in my life, breastfeeding a rapidly growing toddler 24-7, I basically eat hearty, gluten-free vegetarian meals with a side of meat.
Here are four dairy-free, vegetarian, and gluten-free salad recipes that recently caught my eye: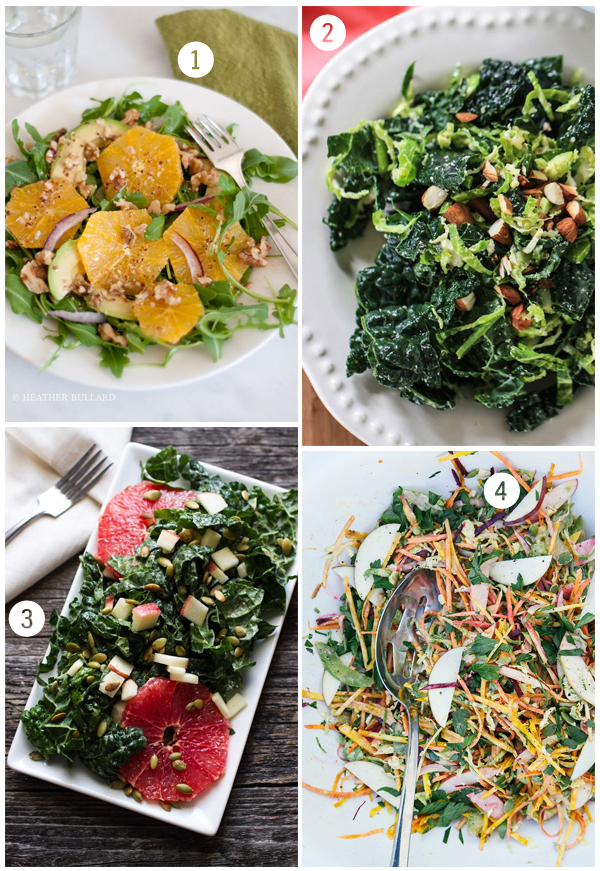 1. Orange, Avocado & Arugula Salad (pin) / 2. Kale and Brussels Sprouts Salad (pin) / 3. Kale Citrus Salad with Orange Tahini Dressing (pin) / 4. Shredded Brussels Sprouts Salad with Garlicky Orange Tahini Dressing (pin)
For other simple, healthy, gluten-free meal ideas check out my Recipes & Kitchen Tips To Try / Whole30 boards on Pinterest.
What sorts of yummy dishes have you enjoyed recently?