We've been working on organizing our arts and craft supplies. Today I am focusing on different ways to store our everyday, frequently used arts and craft supplies.
I originally thought we would organize our most frequently used art supplies on a lazy Susan like this one from The Crafters File Box: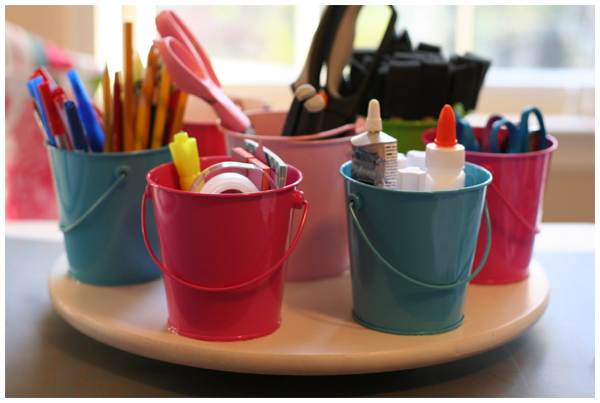 Then I remembered that we most frequently make art at the kitchen table where, frankly, there isn't room for this particular project.
Besides, I want something that I can easily move from the kitchen table for meals.
Perhaps something more like this writing caddy from Playful Learning: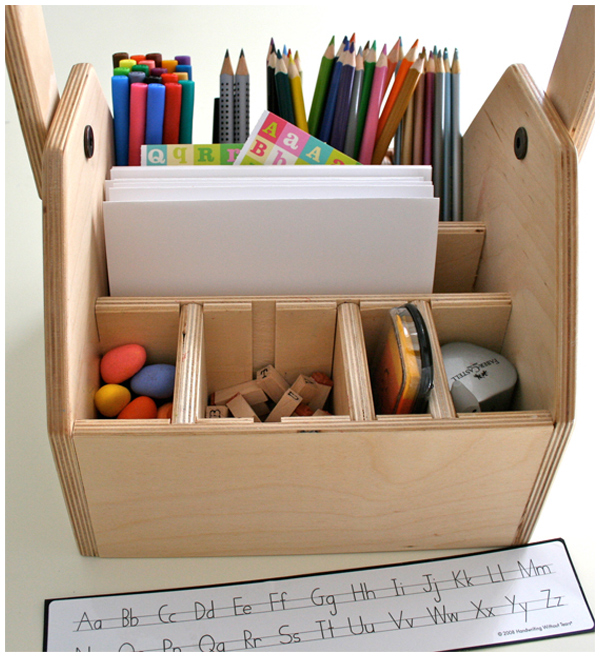 I found other similar caddies online at Magic Cabin and Birch Leaf Designs. While I prefer the idea of making one ourselves, I may break down and buy one of these wooden ones.
I love the industrial look and thrifty-nature (plus eco-groovy benefit) of reusing aluminium cans to store supplies (though I'm less enamored with storing them against the wall above our kitchen table):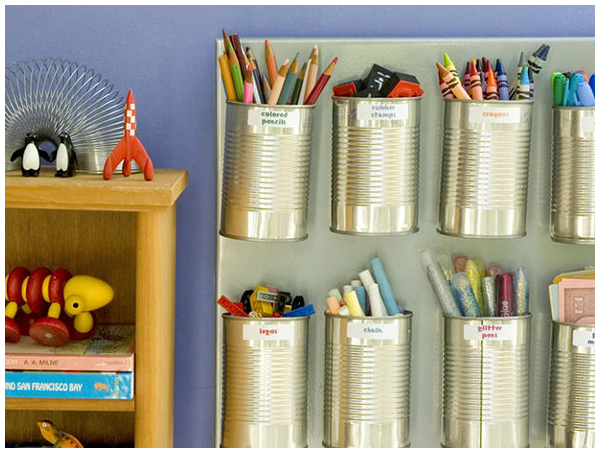 I've found that I like the idea of individual bins or compartments for each art medium (pencils, crayons, markers, glue pens). I like the idea of them being adhered to something so they can't fall over or be easily dumped upside down (ahem).
So my current, do-it-yourself plan is to glue bins (or reuse empty aluminum cans) to a tray that I can easily pick up and move away from the table.
Yes, we won't be able to swing it around like we could have with a lazy Susan, but reaching over the tray or rotating it ourselves should work just fine for us. We also already have all the art supplies to fill the caddy, so it doesn't make sense to buy the already outfitted Playful Learning wooden caddy or the smaller wooden ones where our supplies just may not fit.
I'm excited about my plan. Now, to make it…