For a quick, healthy meal, we like this easy Edamame Salad adapted from a Sunset Magazine recipe.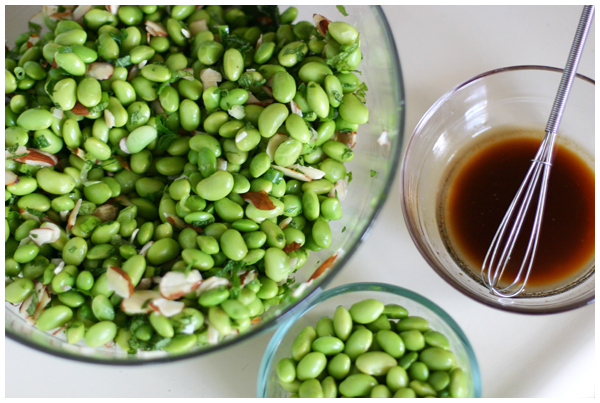 Edamame Salad
Prep Time: 20 minutes
Ingredients
2 tablespoons sesame oil
1 tablespoon rice vinegar
2 teaspoons wheat-free tamari or soy sauce
1/2 teaspoon Asian chili garlic sauce (found on the specialty aisle of many supermarkets and in all Asian markets), optional
1 pound shelled edamame, cooked and cooled
3 green onions, thinly sliced
1/3 cup chopped mint
1/2 cup sliced almonds
Preparation
In a small bowl, whisk together sesame oil, rice vinegar, soy sauce, and chili sauce. Set aside. In a large bowl, combine edamame, green onions, mint, and almonds. Toss with dressing to coat.
Spritzer Leyba Variations
We add cooked (and cooled) quinoa or quinoa-corn pasta to this recipe to make it more hardy. We also like to toss roasted sesame seeds in for protein and more crunch; try using black sesame seeds for a colorful punch!